SweeneyCorp
Ground School Supplies
Sport Pilot Knowledge Test Ground School Text Book
E6B Computer
Electronic (E6B) Flight Computer
Plotter
FAR/AIM
ASA Sport Pilot Prepware
Pilot's Handbook of Aeronautical Knowledge
Practical Test Standard - Weight Shift, Powered Parachute
Practical Test Standard - Airplane, Gyro, Glider
Prepware.com for Sport Pilots

Sport Pilot Training Syllabus
Sport Pilot Check Ride Book
Training Log
Online Pilot Shop
Sport Pilot Knowledge Test Book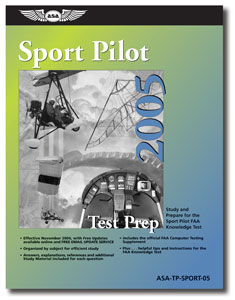 All Sport Pilot questions arranged by subject into chapters with Answers, Explanations (for correct and incorrect answers) and Reference Codes. Helpful test instructions, tips, excellent cross-references, and more included. 136 pages.

The leading resource for FAA Knowledge Exam preparation for over 57 years. ASA continues to produce the best books available to prepare students for all the exams:
FAA Computer Testing Supplement is bundled with every test book so you will become accustomed to referring to the FAA Figures and Legends as you will during the test. This is the same book you will be issued at the testing center.
The FAA tests are on a one-year cycle, with changes made up to 3 times a year. We make sure you have the most current information by publishing the books annually, posting updates on the ASA website that show changes made to the test questions, and providing a free e-mail subscription service for automatic notification when Updates are available.
ASAs Test Preps contain the FAA questions and answer stems — plus answers, explanations (for both correct and incorrect answers), references, and FAA subject codes. Chapter text and illustrations help you more fully understand the concepts.
The questions are arranged into chapters based on subject matter to promote better understanding, aid recall, and thus provide a more efficient study guide.
Sport Pilot Instructor and Examiner applicants should use the CFI Test Prep to prepare for your tests.
[ASA-TP-SPORT-05]

E6B Aviation Computer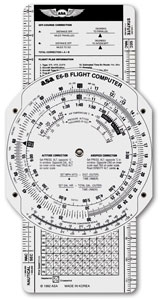 Made from solid, heavyweight fiberboard, an economical version of the aluminum model E6B including all its problem-solving features: compute time, speed, distance, altitude, true airspeed, and density altitude problems. Conversions, nautical and statute scales, wind component grid and comprehensive crosswind correction chart included. Includes case and instruction booklet. 9" x 4-1/2". [ASA-E6B-P]

Electronic (E6B) Flight Computer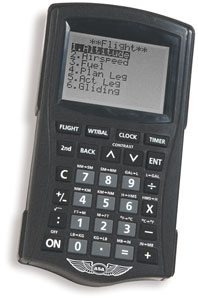 ASAs electronic flight computer takes advantage of advances in display and microcomputer technologies for better performance and price. A menu of 34 functions gives users access to 40 aviation calculations, including weight and balance, with these features:
May be used for FAA and Canadian Exams
The CX-2 complies with Advisory Circular (AC) 60-11, Test Aids and Materials that May be Used by Airman Knowledge Testing Applicants. Users may bring the CX-2 with them to the testing centers for all pilot, mechanic, dispatcher, and FAA exams.

Numerous Aviation Functions
Aviators can calculate true airspeed, ground speed, mach number, altitudes, fuel, headings and courses, time/speed/distance, winds, headwind/crosswind components, gliding information, and weight and balance. Users can change variables and recompute without re-entering the whole problem.

User Friendly
The large, easy-to-read LCD screen displays prompts for fast and easy operation. Inputs and outputs are labeled and numbers are displayed with units. The menu organization reflects how a flight is normally planned and executed. This results in a natural flow from one function to the next with a minimum of keystrokes.

Ergonomic Design
The CX-2 features a simple keyboard and slim design. The hard-plastic carrying case protects the computer inside the flight bag, and fits on the back of the unit for storage while the computer is in use.

Unit Conversions
The CX-2 has 16 unit conversions, including reciprocal conversions for nautical and statute miles, nautical miles and kilometers, feet and meters, pounds and kilograms, gallons and liters, time in H:M:S and decimal formats, Fahrenheit and Celsius temperatures, and millibars and inches of mercury.

Timers and Clocks
The CX-2 has two timers: a stopwatch that counts up, and a count down timer. The internal clock displays both local and UTC time and will keep time with the calculator turned off.

Interactive Functions
Functions can be used together in "chain" calculations, where the answer to a preceding problem is automatically entered into subsequent problems. Standard mathematical calculations and conversions can be performed within each aviation function. The CX-2 uses four AAA batteries (included), and features a 5-year warranty.
Please see the CX-2 Demo, and try it out for yourself. This online version is fully functional so you can see exactly how the CX-2 works.
[ASA-CX-2]

Navigational Plotter



Constructed of sturdy clear plastic with easy-to-read numbers and scales. It includes WAC, Sectional, and Terminal Area scales, and is checked and approved by the Weights and Measures Department. Quick scale reference is provided for both statute and nautical miles. [ASA-CP-1]

FAR/AIM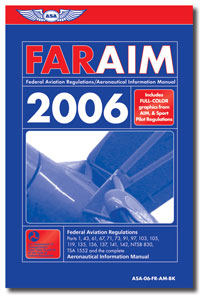 ASA has built a reputation for providing the aviation community with the most accurate and reliable FAR/AIM products available. The 2005 series continues this tradition, with books that contain complete and up-to-date information from Title 14 of the Code of Federal Regulations (14 CFR) and Aeronautical Information Manual (AIM) and a free e-mail subscription service for you to receive updated information as it is released by the FAA.

Parts 1, 43, 61, 67, 71, 73, 91, 97, 103, 105, 119, 135, 136, 137, 141, 142, NTSB 830, and the complete Aeronautical Information Manual. Sport Pilot rules included!

ASA Sport Pilot Prepware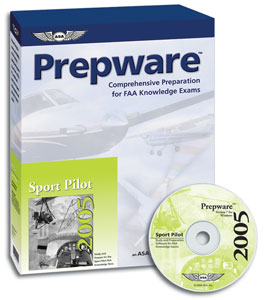 FAA Knowledge Exams: Sport Pilot (for all light-sport aircraft) test included. More than a "question and answer" recounting of test questions, it's the essential tool that combines a powerful software program with the accurate and instructional material you expect from ASA.

Electronic updates that you can download from the ASA website keep your database current as the FAA makes changes to the tests! Free e-mail Subscription Service provides automatic notification when Updates are available.

Realistic test simulation, study and review models, detailed performance graphs, comprehensive study guides and built-in timers give you the confidence you need to ace your FAA exam. Whether you choose to simulate an actual FAA test, or study specific subjects and questions, Prepware has the tools you need.

Also included is the instructor utility, QuizMaker, to generate pop quizzes or exams using actual FAA questions. Quizzes can be of any length and on any specific or combination of subjects. You can print exams, student answer sheets, and instructor master correction keys for quick grading, or save the tests in the software so your students can take these electronically.

System Requirements: IBM-compatible personal computer with a Pentium 166 or higher processor, Windows 95/98/ME/NT/2000/XP, 32MB RAM, 10MB hard disk space, CD-ROM drive, 800x600 SVGA video adaptor & monitor, and mouse.

[ASA-TW-SPORT-05]

Pilot's Handbook of Aeronautical Knowledge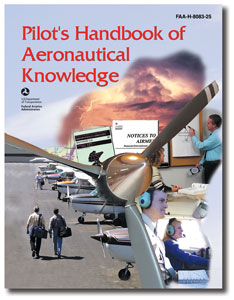 This FAA handbook has been required reading for pilots for more than 25 years. Written for the applicant preparing for the Sport Pilot, Private, Commercial, or Sport Pilot Certified Flight Instructor Certificate.

It is also valuable to Sport Pilot Certified Flight Instructors as a teaching aid. Providing basic knowledge essential for all pilots—from beginning student pilots to those pursuing more advanced pilot certificates—this book introduces pilots to the broad spectrum of knowledge that will be needed as they progress through pilot training. Studying this book, pilots gain the required knowledge to earn a certificate, and can understand the theory associated with flying an airplane. It is a key reference tool to all the information necessary for operating an aircraft.

Subjects covered include principles of flight, aircraft and engine structure and systems, weight/balance and performance calculations, charts and navigation, weather theory, weather reports, forecasts, flight manuals and other documents, use of computers, and aeromedical factors and decision making.

This revision now features new, full-color illustrations. It also includes a newly-updated and revised section on aerodynamics that was formerly contained in a previous FAA publication (Chapter 17 of the FAA's old AC61-21A, Flight Training Handbook). Now reflecting all the latest aviation industry procedures, techniques and regulations, this handbook is the official reference source for questions appearing on the FAA Knowledge Exams. (Formerly published as Advisory Circular 61-23C.)

Includes a FREE Sport Pilot Study Guide downloadable .pdf file.
Be sure to download it at time of purchase!

Practical Test Standards - Weight Shift, Powered Parachute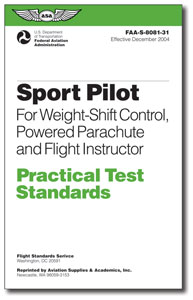 The Practical Test Standards are a guide for students, instructors, and FAA-designated examiners to know what is expected of pilots in a check ride.

ASA reprints the most current FAA Practical Test Standards in this series of handy cockpit-sized guides. This ASA Practical Test Standards book for Sport Pilot Weight-Shift Control (Trikes), Powered Parachutes (PPC), and Flight Instructor is written by the FAA and details the type and levels of skill and knowledge that must be demonstrated before an examiner can issue a certificate or rating to an applicant, and describes background study and reference materials.

Practical Test Standard - Airplane, Gyro, Glider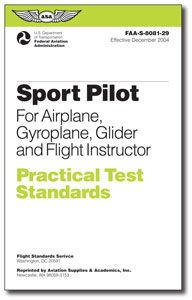 The Practical Test Standards are a guide for students, instructors, and FAA-designated examiners to know what is expected of pilots in a check ride.

ASA reprints the most current FAA Practical Test Standards in this series of handy cockpit-sized guides. ASA's Sport Pilot Practical Test Standards for Airplane, Gyroplane, Glider and Flight Instructor is written by the FAA and details the type and levels of skill and knowledge that must be demonstrated before an examiner can issue a certificate or rating to an applicant, and describes background study and reference materials.

Prepware.com for Sport Pilots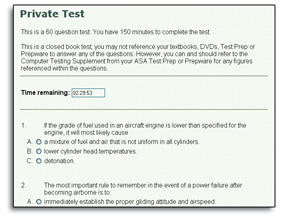 The experts in FAA Knowledge Exam preparation bring you a website dedicated to practice tests. These practice tests give you the confidence you need before heading to the testing center, and save you money on test re-takes. Pilot applicants have the option to use these tests to acquire your test sign-off from ASA staff, or print your results to show your flight or ground instructor for their endorsement.

Prepware.com Practice Exams are available for: Sport Pilot

Prepware.com Demo is available: Sport Pilot - use the Private Pilot Airplane Demo

Prepware.com features include:
Realistic test simulation; uses the actual FAA questions, number of questions, and time allowed for your certificate or rating.

Performance graphs let you hone your studies; upon completion, review explanations and answers for the entire test and see your grade for each subject.

Get your Sign-off — Pilot applicants can email your results to ASA to receive your sign-off and graduation certificate or print results for your flight/ground instructor to endorse. Either way you have everything you need to schedule your exam with the testing center.

Gain the confidence you need, and save yourself the hassle and expense of retaking exams at the testing center.
You can take 5 practice tests. Submit 2 of the 5 practice tests with scores 80% or better to receive your sign-off (AMT applicants taking the General, Airframe, or Powerplant tests will receiva a frameable certificate of completion).
[ASA-PW.COM]

Sport Pilot Training Syllabus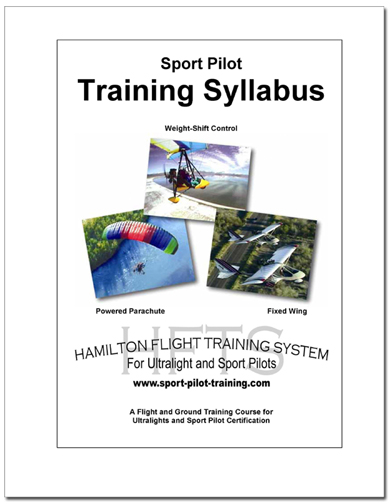 Sport Pilot Training Syllabus
The Sport Pilot Training Syllabus with 38 comprehensive ground and flight lesson plans make it easy to give top quality and thorough training

Sport Pilot Check Ride Book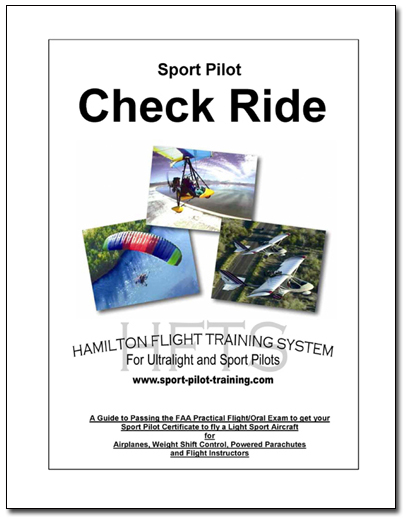 Sport Pilot Check Ride Book
For Pilots of Fixed Wing, Weight-Shift Control, Powered Parachute, and Flight Instructors.
Prepares you to pass the FAA Practical Test (Check Ride) for obtaining Sport Pilot privileges to fly Light Sport Aircraft.
Prepares you to pass the FAA Practical Test (Check Ride) for obtaining Certified Flight Instructor privilege to teach in a
Light Sport Aircraft.
Addresses the categories of Fixed Wing Airplane, Weight Shift Control, and Powered Parachutes.
Training Log

Description
Knowing where the student is in the overall pilot training program is very important. With the Training Task Log, you are able to see your students progression toward their goal of learning how to fly. You and your student agree and document their competency and performance of each flight tasks listed on the task log.

Adventure Productions
On line Pilot Shop for ASA Publications and Ultralight Pilot & Sport Pilot training DVDs, Books and Online study courses.
Go to Adventure Productions
Key words - Sport Pilot Light Sport Aircraft Knowledge Test Live Internet Ground School